Single Room Bubble Tent
Designed and handcrafted out of the highest quality of commercial grade materials on the market today.
Our standard single room bubble hut is our most popular model and is available in three standard sizes.
10' (3.0 m), 12'(3.6 m), and 16'(4.8 m) main bubble room along with an entryway tunnel.
We accept customization request of sizes larger than 16'(4.8 m), speak with one of our design consultants for more details.
All of our bubble tents are created with the Airbnb host, Bed-n-Breakfast and Glamping site owners in mind.
Double Bubble Tent Suite
Our Double Bubble Tent design allows for the host to offer in suite bathroom facilities with all the amenities or a second bedroom just like you would expect in an upscale hotel while allowing guests to be fully immersed in nature for the ultimate eco-tourist adventure.
Our standards double room bubble lodges come in two sizes.
12'(3.6 m) main room with a 10'(3.0 m) second room and in 16'(4.8 m) main room with a 12'(3.6 m) second room. Both double bubble tents comes with an entryway tunnel.
The Double Bubble Tent Suites give your guest plenty of room and comfort.
If you have particular design requirement you'd like to include in your bubble tent one of our design consultants will be more than happy to assist you.
Our Inflatable Bubble Tents are loved and highly sought after worldwide
Our glamping Bubble Tents offer you an opportunity to create a hotel-level standards of luxury and comfort with a tent while leaving a minimum footprint on nature.
The clear rooftop allows for an incredible 360-degree panoramic view of billions of stars in the night sky and natural surroundings.
These "popup hotels" are an attractive, innovative choice for landowners, Airbnb hosts, hotels, eco- resorts, b&b establishments and holiday park owners to diversify revenue generated from their land.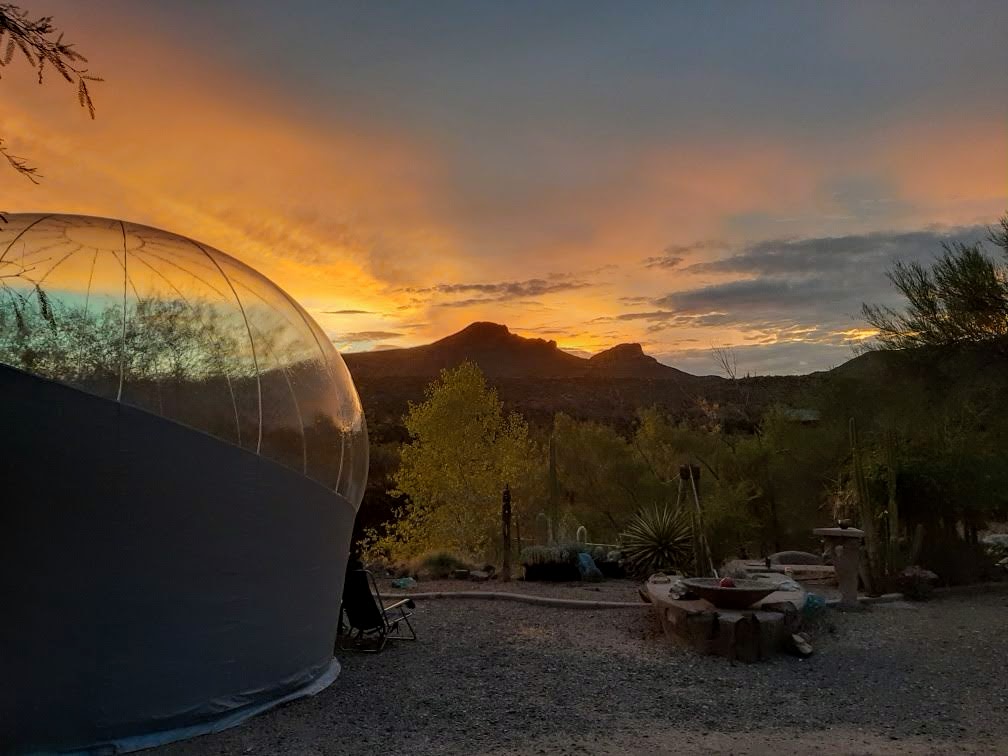 You Are Only Limited By Your Own Imagination!
We are a preferred and trusted provider of Life-size Crystal Globes & Giant Snow globes
Professionals in the Marketing and Advertising Industries come to us for our American brand Globe to use in their next event or venue
Launch a Lucrative Airbnb or Glamping Business Utilizing Bubble Huts
Bubble Hut kits are designed for Airbnb, Bed & Breakfast and Glamping site owners. You can create a unique and memorable escape for your guest by allowing them the opportunity to fall as sleep under the stars in a bubble tent suite. This style of glamping tent is an excellent choice for land owners to use for their small or large hospitality business. Bubble Tents have been proven to have a quick R.O.I
In the News
The Wall Street Journal + Bubble Huts Brand
We are honored to have our American brand of bubble tents featured in the Wall Street Journal as one of the "high quality glamping" tent manufactures
Mansion section - July 12, 2019
Read more here
Starting Your Own Airbnb/Glamping Business Has Never Been Easier!
We've partnered with LightStream to bring low-interest financing to those who qualify.
All lending services are provided by LightStream, a division of SunTrust Bank, and we may be compensated by LightStream through links on this site.
LightStream, the online lending division of SunTrust Bank, offers low-interest loans* to people with good credit. And their loan process is refreshingly simple.
You can apply in minutes from your smart phone, tablet or desktop computer. When you qualify, here are some of the features you can expect:
A competitive interest rate, backed by LightStream's Rate Beat Program

Loan amounts from $5,000 to $100,000

No home-equity requirements; no down payment

No fees

Same-day funding1 available

Your best loan experience ever, guaranteed
LightStream will even plant a tree once your loan is funded!*Your APR may differ based on loan purpose, amount, term, and your credit profile. Rate is quoted with AutoPay discount, which is only available when you select AutoPay prior to loan funding. Rates under the invoicing option are 0.50% higher. Subject to credit approval. Conditions and limitations apply. Advertised rates and terms are subject to change without notice.

1You can fund your loan today if today is a banking business day, your application is approved, and you complete the following steps by 2:30 p.m. Eastern time: (1) review and electronically sign your loan agreement; (2) provide us with your funding preferences and relevant banking information; and (3) complete the final verification process.

© 2019 SunTrust Banks, Inc. All rights reserved. LightStream and SunTrust are federally registered service marks of SunTrust Banks, Inc. All other trademarks are the property of their respective owners. Lending services provided by SunTrust Bank, member FDIC.
Contact Us
Please fill out the form below and a consultant will be happy to assist you!
Please complete the form below
Some of our happy
Bubble Huts Clients
What our clients say about us.